Elevate Your Listings With a Zillow & Trulia 3D Home Tour!
The Covid-19 pandemic has changed the world and how Real Estate Agents do business.  It's time to adapt! It's time to go 360.
Feel free to call me directly on my cell any time with any questions about my services.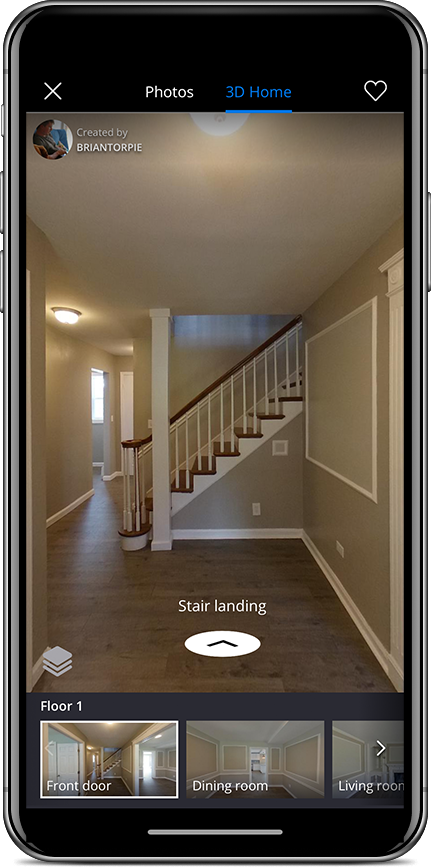 "The engaging experience of a virtual tour helps garner more views of your listings."
Captivate your audience
Draw attention. Listings with a 3D Home tour have a unique tag that helps them stand out.
Inform decisions. For-sale properties with 3D Home tours were 22% more likely to sell within 30 days.*
Clarify the layout. Photos alone don't show how rooms flow together — but virtual tours do.
Improve the house hunt. Virtual tours let viewers get to know a home's features so they can decide which ones to view in person.
Share anywhere. Your tour appears on Zillow and Trulia, and you get a link to share it to your MLS, social media and beyond.
*Over a 6-month period, 46% of homes with Zillow 3D Home tours sold within 30 days vs. 38% that did not have a Zillow 3D Home tour.
An Affordable Way To Stand Out & Win Listings!
Offer home shoppers a more robust understanding of a new home's features and its layout.
Win The Listing
Include 3D Home in your toolkit to show sellers you're the clear choice to help their home attract more buyers.
Get Noticed
Impress sellers with online marketing that gets results. Your Zillow and Trulia listing will have a 3D Tour button to engage home shoppers.
Rank Higher
Listings with a 3D Home get more exposure to buyers on Zillow and Trulia as they are given search priority.
Let online shoppers immerse themselves in your listing
See for yourself what a 3D Home tour adds to your listing.
3D Home Tour
A 3D Home Tour will be attached to your listing on Zillow. I will provide a special link which you can use to then add to your Trulia listing. You can also use this link on emails, social media post and anywhere else so you can get as much exposure to the 3D Home tour as possible.
Photos
To sweaten my offering, every shoot will also include High-Resolution photos for your listing.
Additionally, I will do post-editing work to all the photos of the listing.
Feel free to call me directly on my cell any time with any questions about my services.

Apart from adding a Virtual Tour to your listing on Zillow and Trulia, I will also give you the 360 Images so you can promote the listing on Facebook!
Every 360 Image in News Feed is recognized with the 360 logo and a heading indicator prompting viewers to explore the scene. These features let potential buyers know there's a whole 360 degrees around them to experience.
My Equipment 
Records natural 360° images using approx. 23MP(6720 x 3360, 7K) still image shooting and highly accurate image stitching.
Using a newly developed lens unit which reduces ghosting, flare, and purple fringe. Aperture mechanism is newly adopted with the selection of F2.1, F3.5, and F5.6. By closing down the aperture, higher resolution is achieved.
Produces incredibly realistic spherical video by 4K (3840 x 1920, 29.97fps) quality.
Equipped with a 4-channel microphone. 4 microphones are built into the camera to independently record sound from 4 different directions when shooting video.
1,000 – 2,500 sqft
$300
$175
2,501 – 4,000 sqft
$400
$225
4,001 – 8,000 sqft
$700
$400
8,001 – 12,000 sqft
$1,200
$700
12,001 – 20,000 sqft
$1,800
$1,000
20,001 – 35,000 sqft
$2,500
$1,500
Walkthrough Video
starting at
$250
$150
Feel free to call me directly on my cell any time with any questions about my services.